Affiliate Disclaimer: Self Made Modern is reader-supported. When you buy through links on our site, we may earn an affiliate commission.
I purchased a Cricut Maker 3 for my husband. He was looking for a vinyl cutter that would be small enough for the space we have. During my search I came across Cricut. Sure, I had seen these little cutters at craft stores off and on for years but I couldn't figure out why, anyone who wasn't a scrapbooker would ever be inclined to use one.

Well people, turns out I was wrong. So wrong.  The Cricut Maker and Cricut Maker 3 are a incredible multitasking machines. I'm not getting paid for this or even getting anything free. In fact, I've paid them and am fully satisfied with my purchase. This is a machine I fully see us using for years to come.


What Can the Cricut Maker Do
It does everything! You want cute cutouts in any shape or size to hang on your classroom wall…Done! You want vinyl to decorate and organize every square inch of your classroom…Done! You want to make cute borders to decorate your black board…Done! Teaching your students how to sew for home ec? Yes, it can cut patterns for you too. Wanna build a science project that looks amazing? Just tell it what to do. I'm pretty sure this thing could make me dinner if I asked it to.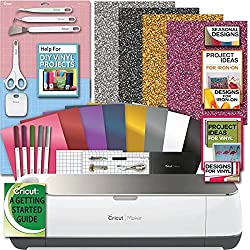 Here is the list of what my Maker 3 can do:

Cuts 300+ materials
Cuts vinyl, wood, chipboard, aluminum, and sewing patterns
Can easily make paper cards for whatever your needs are
Emboss
De-boss
Perforate
Metal foil

This may be my favorite multi tasking machine ever. If you have ever been to the teaching supply store you know just how expensive just a few of these things can get. The cost of this one device definitely is worth it in my opinion. I can use it not just for teaching, but for art projects and gift ideas for friends. It's definitely a gift that keeps on giving!  
The Cricut Maker 3 is the newest model of this machine.  The original Cricut Maker is the model before.  The main differences are that the newest model is much faster.  It can also cut up to 12 feet of vinyl at a time.  The original can't.  The newer model cuts 300+ materials where the original can only do 100+.  I honestly think you couldn't go wrong with either model.  
We selected the Cricut Maker 3 because of the vinyl.  I've been more than satisfied with it.  It has definitely exceeded my expectations.
What do you do with your Cricut machine?  Feel free to share.